Rescue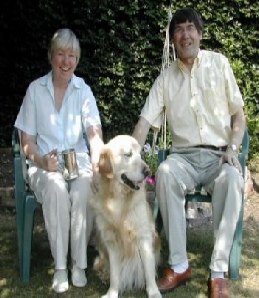 In the past, we have helped many owners to rehome a number Golden Retrievers in the East Anglian region.   We were asked to do so for a number a reasons, including changes in domestic or family circumstances, bereavement, the arrival of a new baby, or sometimes they are just too much of a handful for their owners.
The dogs have varied in age from young puppies to the older dog in their twilight years, but all needed loving new homes where they could be cared for.  Over the past few years, the internet has had a huge impact on the numbers coming through our rescue.  This is because many people prefer to rehome their Goldens through sites where there are few questions asked.  As a Club, we have always done our best to thoroughly assess each dog for temperament and health before rehoming.  We also vet the owners of course too!  Here is the link to our  rescue questionnaire. The questionnaire can be completed and sent by email. If you require a paper version or would like an address to send it, please email or call us for details. Please not that in order to be GDPR compliant and to protect your personal data, we will only keep your questionnaire for 2 years from the date of receiving it. If you haven't heard from us within this time and are still interested in a rescue dog, it will be necessary to reapply.
If you have a rescue query, you can contact our rescue co-ordinator directly at goldenretrieverrescue@hotmail.com or by phone on the dedicated rescue number 07434 615157‬
Read about some of our rescue dogs: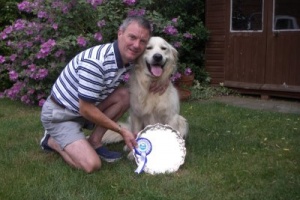 Born Leithfield, 30th November 2003 I left my home and family and moved into a house in the middle of a town in Bedfordshire. Initially everything went well, I went to puppy classes and started to learn how to behave as befits a dog of superior breeding (Mum has two CCs and my great-great grandfather Read More ...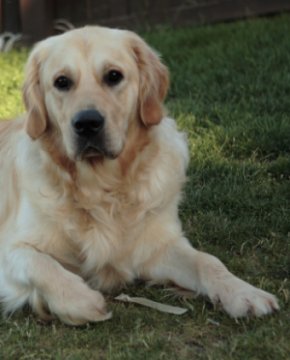 By Kate Everett – Published in the Golden Retriever Magazine Autumn 2006 I often wonder if anyone who isn't a dog lover can really appreciate the pain of losing a beloved pet. Standard responses range from 'Oh how sad' to 'Well, just get another one'. But as we experienced recently, losing a loyal friend and Read More ...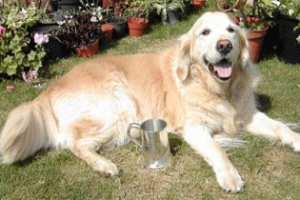 Why did we decide to 'rescue' Barney? In 2000 we lost our old Labrador/Retriever cross, age 16 and half. We wanted another dog, but neither of us wanted the hassles of training a puppy. We hadn't put a lot of thought into what we would do, as we'd booked a holiday in Australia for Christmas, Read More ...
Bertie
Bertie has just been on his first working day as a PAT dog. We took him to a local care village, some old people, some bed ridden, some dementia, some stroke and some who never leave their room . They were so pleased to see him, and he behaved beautifully. He went round two sitting rooms full of people fussing him and gently giving a paw for dog biscuits,(not much dinner for him tonight) He then went around to around 15 rooms to see the bedridden clients, mostly the staff could lower the beds so they could fuss him, but where they couldn't, they pulled an armchair over so Bertie could sit on the chair near them. He must have been fussed by about 45 people there, and apart from a 5mins break outside in the middle, we were there about 2 hours.The staff said three of the people have never smiled before they met Bertie, goes to show how worthwhile the visits are. They took photos of him with each of the residents to make a photo board in the home. So that's a Friday visit once a week now. PAT dogs want him for a Read 2 dog as well as he's so calm, so I think he'll be busy boy, and everyone will get to love him as much as we do.All the best Maggie and Derek.