Barney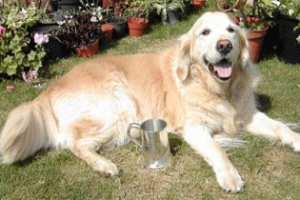 Why did we decide to 'rescue' Barney? In 2000 we lost our old Labrador/Retriever cross, age 16 and half. We wanted another dog, but neither of us wanted the hassles of training a puppy. We hadn't put a lot of thought into what we would do, as we'd booked a holiday in Australia for Christmas, until a work colleague told Malcolm about the lovely retriever bitch she'd just re-homed through Retriever Rescue. That seemed to be the answer. So once we got home in January 2001, we rang to make enquiries. In February we collected our beautiful cream bitch, Carley, from the kennels in Essex. She settled in well, and while having a conversation with Sue (Ross) through the year, realised how many dogs needed homes.
So we decided to travel into uncharted waters and offer a home to a second dog. Carley was spayed in October and once she was healed we said we could take another dog. Barney had been offered for re-homing for some weeks, but his owner wasn't prepared to sign him over and have him put into kennels. She was also being quite difficult about where he should be re-homed. He has a skin condition, whereby his skin is black and it constantly sheds. He's had all sorts of tests and had even been to the Cambridge vet school for a skin biopsy. His owner rang us and we had a couple of long conversations explaining we already had Carley and if the 2 didn't get along then we couldn't take him anyway.
So at the beginning of December we travelled to Essex yet again, with Carley, to see whether Barney would join our family. Our first impression of him was that he was quite small, as Carley was a long-legged blonde from Essex, but he has short legs! But they seemed to get on like a house on fire – playing in the garden and quite happy when we took them for a walk. His owner explained he had a lot of medication to help his skin and coat problem, and that he needed 2 baths a week!! We were also quite sad about the fact that a dog, age 4, had only had 1 walk off the lead as the owner was afraid he wouldn't come back.
So it was agreed we could take him. The owner and her 3 daughters were in tears, as we packed his medication and bowls into the car. I was in tears too and found it the hardest thing to do, but we promised he'd have a good home. Barney had never had a bed, he slept on a mat at the foot of the stairs. Carley had a bed under the stairs all day, but slept in the kitchen at night. So the first night we put Barney's bed in the kitchen with Carley. Our bedroom is above the kitchen and every time we turned over Barney barked! This went on every night for about a month, by which time we were exhausted and so took the beds upstairs into our bedroom – no problems whatsoever! Mind you, Barney still doesn't sleep in his bed – he'll start in it, but when the light goes out he moves to a spot on the floor. His bed is just used for eating his breakfast Bonio!
He settled in very well and very quickly, as he seemed to learn from Carley. In hindsight they became companions very quickly, and after only a few weeks began to tug together and then to play and roll each other over. We have always walked our dogs on Newmarket racecourse, so we had some initial recall training with him, and then decided we'd have to see what happened. He loved being off the lead, but unfortunately took to chasing the rooks! Here was a dog that thought he could fly!! He would chase and chase, and twice I lost sight of him across the heath. Eventually we hired a spray collar, and after some intense training he chases no more – or not very often.
Through the weeks, months and years we've monitored his skin complaint, and taken advice, to the extent that he now only has a small quantity of evening primrose oil once a day, and a bath (with special shampoo) every 4/5 weeks, when he gets itchy. He's a happy dog that likes to be with us, always spends the evening in the lounge, and will be close to me through the day whatever I'm doing.
His life changed quite abruptly Christmas 2004 – the pair of them went into kennels as we were spending Christmas with my aunt in Los Angeles. While there Carley ate pet bedding and was taken away on Christmas Eve by our vet, who had to perform emergency surgery Christmas Day. Sadly 2 days later she died. Our son couldn't bear to leave Barney in the kennels, and so he looked after him till we got home. He was so pleased to see us, but, of course, couldn't understand where his best friend was. When I collected Carley's collar from our vet, he recognised her scent and there was a big wag! But I still couldn't explain to him. Telling Sue what had happened, she asked if we had thought about having another dog. He was certainly looking for a companion and we'd decided we would, sooner or later. That's when I was told about Nala, a 4 year old bitch who had just been offered for re-homing.
Once again we were questioned by her owners about our situation, but the following weekend saw us heading to Norfolk, this time, to see whether Barney and Nala could be friends. When we got there, Barney was convinced they were friends, but Nala wasn't so sure. We'd been doing some re-inforcement recall training with Barney using liver to get him to come to the whistle – while we were on the walk, Nala learnt very quickly that whistle meant liver!! They told us that she didn't mix with a lot of other dogs as they weren't many in the village, but the 2 seemed fine, so we brought Nala home with us. Barney had now been promoted to Top Dog and sometimes the responsibility seems hard for him to bear! Nala spent the first 2 weeks on the mat in the utility room and shied away from him whenever he went near. She'd spent a lot of time on her own in the garden and still likes to do that. Barney couldn't understand why she wouldn't play with him – Carley always used to. It's only in recent months, a year after we've had her, that she'll play with him, on her terms.
Barney has a lovely temperament; we can do anything to him – trim his feet, clean his ears and he jumps in and out of the bath. He's a bit of wuss, but when Nala's obviously been unhappy meeting other dogs on the racecourse, he always comes to her rescue. This December Barney has lived with us longer than with his first owner, but he likes to sit on our stairs and watch the children going to school. Suddenly his ears prick up and his head goes to one side as if he thinks he's seen 'his girls'. And they say dogs don't remember!
We were so proud that Barney was chosen as best veteran dog, but he's always been a winner in our eyes. Life without our doleful looking wuss will eventually be sadder, but we'll have had some wonderful times with him along the way.