2009 Working Results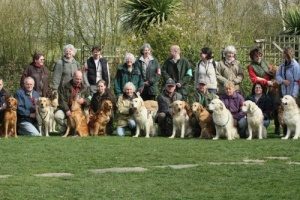 2009 Gundog Training Day
The response was almost overwhelming for the 2009 training day. Thirty delegates put their names forwarded to be included in the day This necessitated an extra group to the normal four so that we could have 5 groups of 6.
The day started promptly with the Working Test secretary giving the call to "gather round" so that the exercises could be outlined and everyone move off promptly at 10am.
Our trainers on the day were Terry Strowger, our President Jim Gale, Bob Sharman, Angie Musk and Glyn Hillier. Jim is regularly one of the judges officiating at the Show Gundog Working Certificate day held at Ampton near Bury St Edmunds during the shooting season and Angie Musk will be judging our Novice Dog/Novice Handler and Special Puppy Working Tests later in the season so the opportunity was there for folk who wanted to be involved in these events to get their questions answered.
The Morning was spent working on the 5 tests which make up the novice dog/novice handler working test. This proved difficult in some instances as basic obedience had yet to be instilled and some dogs were not keen on picking up anything at all. However, several options were suggested to overcome the various difficulties as they presented themselves and everyone broke for lunch with plenty to think about.
It was difficult for the trainers to decide how best to help the delegates after lunch as the standard of work was so varied. However, it was decided to run a mock drive to aid with steadiness and then a retrieve to encourage those who were making strides in that direction. The sun shone during the afternoon and when not working in the line, folk had plenty of opportunity to chat and soak up the rays.
The day finished at 3pm with tea and the raffle following by a word from our President and the grateful thanks of the delegates being passed on to the trainers by way of some liquid refreshment for consumption at a later date! The stewards who gave up their time to assist the trainers by throwing dummies, firing shots etcetera each received a seasonal gift which hopefully did not melt in the car on the way home!